Welcome to Invictus Fides Summer Camps
*Please Note the Change in Location for Speech Camp Below*
July 29th-31st: Team Policy and Lincoln Douglas Debate Camp — $150
Aug 1st-2nd: Parliamentary Debate Camp — $100
Aug 6th-7th: Speech Camp for Ages 5-18 — $100
All camps will take place from 8:45am-4:00pm each day.
Join us this summer as experienced coaches from two local Stoa clubs, Invictus Fides and Fortify, team up to offer you the best possible speech and debate training!
We are pleased to offer expert instruction in three forms of debate. From Monday, July 29th-Wednesday, July 31st, choose between either novice or advanced tracks of Team Policy or Lincoln Douglas Debate. On Thursday, August 1st and Friday, August 2nd, please join us for novice or advanced Parliamentary Debate Camp.
The following week, you are invited to our always fun and fabulous speech training! Tuesday, August 6th-7th, we will offer a general speech camp with Junior Speech Camp for ages 5-11 and Senior Speech Camp for ages 12-18.
Receive a $25 discount if you sign up for two camps (use code 25off). For families with more than one child attending any of the camps, each sibling will also automatically receive a $25 discount off of the total registration amount.
Location for Speech Camp:
First Baptist Church Keller
225 Keller Pkwy
Keller, TX 76248
Google Maps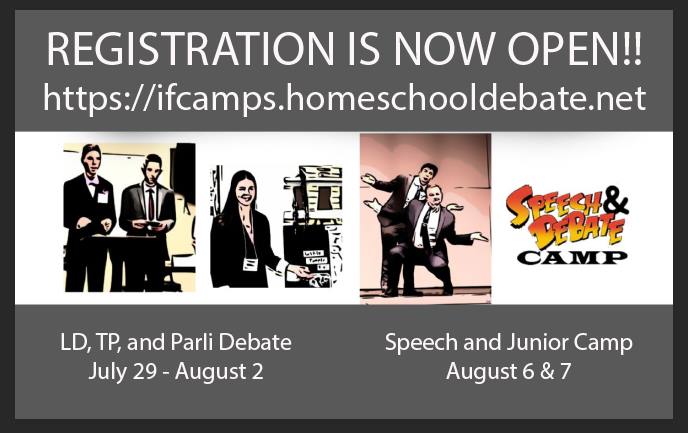 For questions about registration, contact invictusregistrar@gmail.com
For general questions about Invictus Fides, contact admin@invictusfides.org